Docent-led tours of the historic Modjeska House are held at 10:00 am. every Wednesday and Saturday.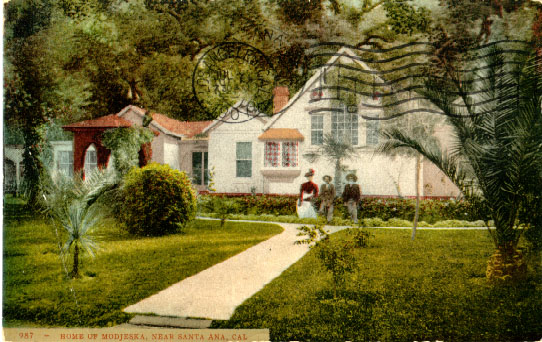 6 Responses to "Arrange a Tour"
Michele Prata says:
January 19, 2014 at 9:11 pm
I am a designer member of ASID-OCC and I would be interested in having a tour arranged for my group this year. Please let me know if I can arrange to have catered lunch brought onto the grounds also! Thanks so much!

Dear Michele,
Thank you for visiting our website. I sent an email to your personal email address, but I am not certain if you received it. We would love to have your group come and take a tour of Arden – The Helena Modjeska House and Gardens.
Tours can be arranged by calling Heritage Hill Historic Park at (949) 923-2230.
Looking forward to having you at Arden.
Sincerely,
Linda Plochocki
President
Helena Modjeska Foundation
Sharon says:
January 21, 2014 at 2:27 am
I would like to take your tour of the Modjeska house and Garden Tuesday January 21 @ 10:00. Please confirm if ticket is available.
Thank you

Dear Sharon,
Thank you for visiting our website. Unfortunately, the Helena Modjeska Foundation does not take reservations for tours. You must call Heritage Hill Historical Park at 949-923-2230 to arrange to take a tour. There is a tour this Saturday, January 25, and the next Tuesday tours are February 4 and February 18. We look forward to seeing you at Arden.
Sincerely,
Linda Plochocki
President
Helena Modjeska Foundation
I'm writing a biography of Susan Sontag and am in Los Angeles for the next six weeks doing research at UCLA. I called and spoke to Amy this morning and she suggested dropping a line this way. I wondered if there is anyone there who remembers the controversy surrounding "In America" and Sontag's writings about Modjeska, and who would be interested in talking to me about it. My number is 713 530 2730, or you could reply to the above email. I would really appreciate hearing your perspectives on the book and the controversy. Yours, Benjamin Moser
Dear Mr. Moser,
Thank you for contacting the Helena Modjeska Foundation through our website. Yes, I remember the book and the controversy very well, and I would very much like to share information with you, either by phone, or, if you have time, we could meet at Arden – The Helena Modjeska House and Gardens to discuss the subject. In early 2000, I read an article in the LA Times that Susan Sontag's novel, "In America," which was inspired by the life of Helena Modrzejewska, was to be released in March of that year. Since I was going to be in New York City that February, I contacted her publisher, Farrar, Strauss and Giroux, and arranged to meet with Mr. Jeff Seroy on February 18, 2000. Mr. Seroy gave me an advance copy of the book, which I began reading in my NYC hotel room, and continued to read on my return flight to California. Upon my return, I immediately arranged to give the book to our historian, Ellen K. Lee, who was quoted in all of the articles regarding the controversy. I delivered the book to Mrs. Lee on 2/21/00, and she called me the morning of 2/21/00, stating that she had finished the book, and then she told me to get a pencil and paper to make some notes. I still have those notes. Mrs. Lee, who had researched Helena Modjeska for forty years passed away in 2007.
I still have a file with copies of the book reviews, as well as articles surrounding the controversy about the book. These articles, as you probably already know, were published in the LA Times, Orange County Register, OC Metro, Mirabella, Vanity Fair, The New York Times, Time Magazine, and Slate. In fact, I just found my email exchanges with Jeff Seroy. Ms. Sontag participated in the LA Times Festival of Books in 2000 (I don't recall the month), and she did a reading of excerpts from her book at the Los Angeles Central Library, with Michael Silverblatt of the LA Times, which I attended with another Helena Modjeska Foundation board member. We had an opportunity to meet with Ms. Sontag after her presentation, and we offered to give her a special, private tour of the house and gardens. We also presented her with a poster of Helena Modjeska, as well as brochures for the foundation and historical site, which is a National Historical Landmark and a State of California Historical Landmark. Ms. Sontag signed our copies of "In America," which we brought to the presentation.
Please contact me at your earliest convenience so that we can arrange a time to chat, or meet.
Kind regards,
Linda Plochocki
President
Helena Modjeska Foundation
(949) 230-6421 (cell)
(949) 459-0797 (home)